Spacing, Brake, Gap And Metering
Alliance Industrial Corporation designs, manufactures and installs spacing and metering devices for production lines that ensure the proper spacing and gapping of items as they flow through the process.
This includes modules to manage product flow for production, case packing and infeeds as well as for case and pack palletizing and off loading.
Our bolt-on belt-spacers/metering devices for new or existing lines ensure properly metered flow or create a gap between products on a single chain.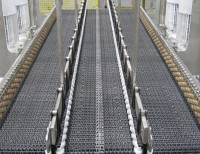 We manufacture brake and metering units for products, cases and packs that create precise gaps between units that your production line flow requires.
Alliance Industrial designs stand-alone or bolt-on starwheel spacer devices for use in situations where a precise gap is desired between products.