Case Packing and Inspection
Production is not complete until items are correctly packaged and ready to leave your facility. To speed up that process, we have machinery to pack cases of many types and inspect the completed packs to ensure they are packed correctly.
Our robotic case packers are very fast and highly efficient solutions to handling high volume production lines so that product shipping and storage can keep up with the speed of production.
The Alliance Industrial Case Packer can be built to give you the flexibility of packing either "necks up" or "necks down".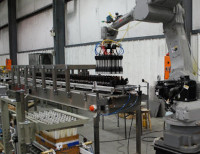 See our Robotic Case Packer drop running 20 cases per minute with our single case End of Arm Tool.
The Case Pack Inspector quickly identifies and eliminates problem cases on your lines before they create bigger problems downstream.